How to Get Your Body Back
Exercise doesn't have to be a battle, your goals needn't seem impossible and you don't even have to go to the gym!!
You see I believe we have created the Ultimate Fat Loss Success System , since I started using it with my clients it has been so successful I have received referral after referral because it's unlike anything they have ever experienced.
Wouldn't it be amazing if in just a few weeks from now you have literally destroyed that muffin top, banished your bingo wings, you've dropped a dress or jean size, feel fitter than ever before, have a firm flat stomach and can slip on your bikini or board shorts knowing that you look fantastic.
Just like Jan, Lorna and Paul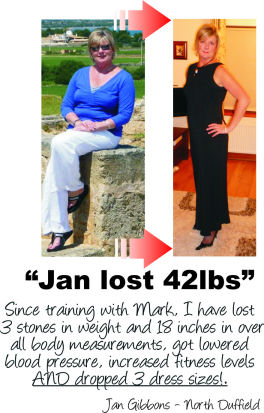 Read Jan's Testimonial
Our M.E.R.I.T system is guaranteed to destroy all those stubborn pockets of body fat and make you the envy of your work colleagues, friends and everyone you meet. YOU can achieve anything you want by following it, but only if you're serious about RESULTS.
To my knowledge there is no other Personal Trainer in the area that can guarantee results AND who'll give you your money back if you don't achieve that success.
There are no magic wands, no points counting no calorie counting just a tried and tested nutrition system supported by thoroughly researched training methods.
Not only will body fat literally melt but your skin, hair and nails will be healthier, your energy levels higher and sleep quality vastly improved.
There are two types of people when it comes to fitness and weight loss......
ACTION TAKERS and EXCUSE MAKERS , If you are an action taker give us a call and we will start you off on your body transformation journey but if you are an excuse maker then carry on blaming lack of time, work, family commitments and anything else you can.
Still interested? Read on....
How can you train with us?
My reputation is very important to me, I offer a money back guarantee and for that reason I do have a client criteria and don't simply accept every client that calls or emails asking to train.
We offer one to one training in a a private studio or you can train at home with a friend or a small group of friends. You can also experience our M.E.R.I.T system at one of our Boot Camps.
To meet our Personal Training criteria you must:-
Train with us at least once a week with us for a MINIMUM of 8 weeks
Fill in a food diary and exercise journal every day throughout the time spent working with us and deliver it via email or in person EVERY week
Follow one of our whistle stop (30 mins max) home training programs a minimum of 2 days a week. (dependant on how many sessions you do with your trainer)
Be prepared to follow our nutrition Elimination plan for the first 14 days of the program and the integration procedure afterwards. (though for ultimate results 30 days would be better)
Put 100% effort in all aspects of the fat-loss process both diet and training
Maintain a positive 'can do' attitude throughout your time with us.
Understand that regardless of what you have done in the past our system gets results in shorter time scales and more efficiently than anything else you've experienced.
Understand that we don't charge 'per hour' and you cannot 'pay as you go'.
So in 30 days time do you want to be in exactly the same position you are now or do you want to be full of energy, every time you leave the house have people commenting on how amazing you look and are complementing you on your 'new' body, asking what your secret is. You can fit easily into those jeans again; in fact you can wear anything you want!
If you don't want to be where you are now then contact us now on 07515 865016 or click here, the longer you wait the longer it will take you to get your body back.
Supervised Personal Training Fees
All Personal Training Plans are based on individual needs and require an initial consultation. At consultation stage your reasons for wanting to train with us are evaluated along with a health assessment and goal setting analysis exercise. A fee of £40 is charged for this.